PRIVATE LABEL
Catalogs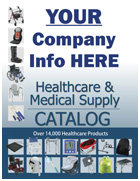 Use our catalog as your own! We will put your logo & Information on our catalog.

This amazing marketing
tool is an easy and inexpensive way to build sales fast!
You control your destiny.
PRIVATE LABEL
Custom CD Viewer
A perfect complement to our Private Label Catalog Program is the Private Label CD Viewer Program.
Give your customers that prefer to use their computer a custom CD viewer with YOUR information on the CD Viewer catalog. Your customers can view your catalog, flip virtual pages, make on screen notes, bookmark items and much more
PRIVATE LABEL
Flyers
Create a beautiful 4-color sales flyer
with the medical products and prices of your choice! Use these flyers to enhance sales to your existing customer.
There is no better sales tool!
You control your flyer product selection and pricing, you control your destiny.
YOUR WAY ONLINE
Private Label Website
Ever dream of a incredible website
to promote your products? Using our website software you can have a feature rich, fully loaded website that comes with 10,000 products already built in.